Pagi tadi guwa bangun, dengan rambut panjang yang masih kusut tidak terurus, tiba-tiba perut guwa memulas-mulas dengan pulasan yang luar biasa hebatnya. Guwa berkata sendirian, | Celaka, ini mesti kari mamak semalam ni. | tanpa membuang masa, guwa terus mencapai rokok di atas rak buku dan bergegas ke tandas untuk memunaikan apa yang telah dihajatkan. Sambil membuang air kumbahan, guwa menyedut dan menghembus asap rokok dengan perasaan yang sangat tenang walau asshole agak sedikit pedih kerana tujahan bahan buangan yang terlalu laju. Selesai mandi-manda, guwa bersiap dan menuju ke dapur berhampiran untuk menghasilkan satu roti yang dinamakan Roti John. Tanpa guwa sangka, pertama kali percubaan guwa telah berjaya menghasilkan Roti John dengan begitu perfect sekali. guwa berkata sendirian lagi, kali ini dengan ketawa kecil, | Malam ni dah boleh start berniaga. miehehe |
Oh, ini bukanlah Roti John yang guwa hasilkan. Guwa rembat kat google jer ni.
Meanwhile at Nou Camp...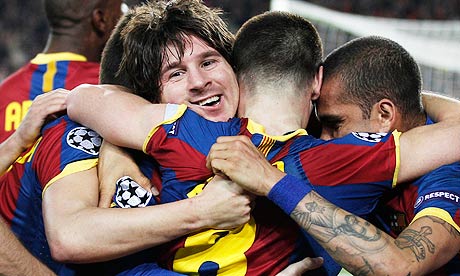 Guwa tak kisah walau nampak macam gay, janji Barcelona menang - Lionel Messi
Barca attempts 19 on goal shotout against the visitor, while Arsenal never managed a shot on target and surely Barca beat Arsenal 3-1 and 4-3 on aggregate to reach the Champion League quarterfinals. Fuh, dasat geller leh~ Its oklah Arsenal, Barca memang kuat. Nak buat guane ye dok? ni FA cup ahad ni lawan ManUre, takkan tak boleh beat kot. The Blues dengan The Reds relax jer benam itu setan merah. kamon ganer! i no u can do it! Tetiba nak main miniclip plop. kbai!